As modern cars become increasingly equipped with type-C charging ports, the demand for more powerful and faster charging solutions in the automotive environment is on the rise. To meet this demand, Richtek introduces its new generation automotive USB type-C PD charger IC, the RTQ7882-QT. In this video, we will explore the features and benefits of this highly integrated USB type-C PD charging solution, as well as some design challenges addressed by Richtek's power solution for automotive applications.
Automotive USB-C PD charger requirements
Introducing the RTQ7882-QT: The Highly Integrated Power Solution for Automotive USB Charging
The RTQ7882-QT is a USB type-C PD and PWM Buck-Boost controller with an embedded MCU, compliant with USB PD 2.0/3.1 specifications and UFCS China's fast charging standard. This highly integrated IC offers various functions, including communication protocol, smart control of the PWM converter, firmware programmable hardware protections, and user-programmable functions for charging solutions with output power ranging from 27W to 100W.
RTQ7882-QT design/programming tips
1. Software Development Kit (SDK)
To streamline the design process and ensure future compatibility, Richtek provides a specialized software development tool, the Richtek SDK GUI. Find out how to program a 60W single port evaluation board via the SDK.
2. Input Voltage Power De-rating
In the automotive environment, high battery currents can be a concern for the input fuse, and rapid battery discharge. See how to program the SDK to implement Vin de-rating functions.
3. Temperature Power De-rating
To maintain safe operation at higher ambient temperature, the USB charger temperature must be carefully controlled. See how RTQ7882 measures temperature and prevent overheating while charging.
4. Power Save Mode
Learn about different power save requirements in automotive USB chargers and how RTQ7882 can meet those requirements.
5. Additional Features
You can find more programming tips on Blocking MOSFETs, High Power Charging, Dual Port Frequency Synchronization, Dual Port Power Sharing and Programmable GPIOs.
Watch the video presented by the product expert Roland van Roy to explore the RTQ7882-QT power solution.
Products mentioned in the video for USB-PD sink side:
RT9490 5A 1- 4 cell Buck-Boost switching battery charger with I2C control.
RT9759 Smart cap divider charger with I2C control, featuring 8A max. charge current, 15-way productions and more.
RT9471 3A single cell switching battery charger with I2C control.
RT9758 High voltage smart cap divider and direct charge charger, featuring 5A max. charge current, 9-way protection and more. 
RT1715 Programmable USB type-C PD controller (TCPC), allowing up to 100W Vbus power.
RT1716 Programmable dual-role USB type-C PD controller (TCPC), allowing up to 60W of power and role swap.
RT1731 Electronically-marked ID cables IC for type-C passive/active cables, and USB full-featured type-C cables.
RT1719 Sink-only USB type-C controller, allowing up to 100W of power.
NEW PRODUCT FOR AUTOMOTIVE TYPE-C CHARGER 
Check out the products that meet your area of interest for more information.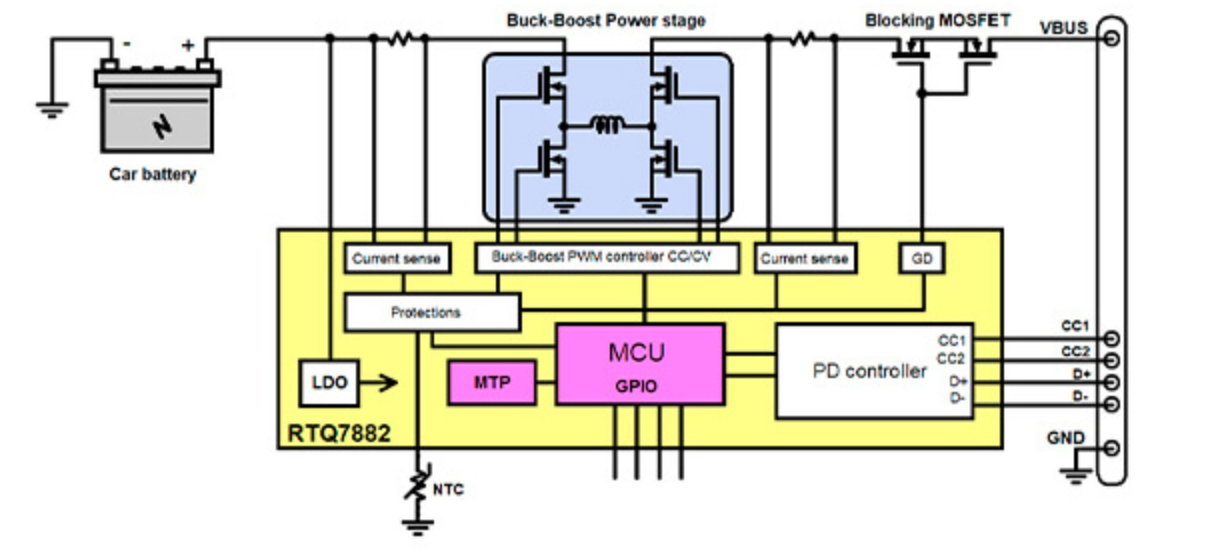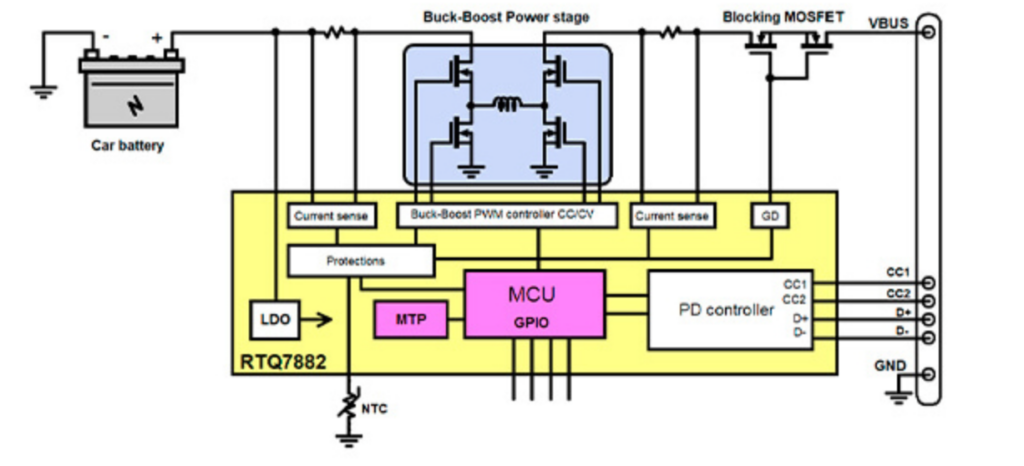 RTQ7882-QT
USB Type-C PD and PWM Buck-Boost Controller with AnyPowerTM and PD Safe®Features. Operating from 4.5V to 30V battery input with 36V load dump capability, the RTQ7882-QT is the USB type-C and PWM Buck-Boost controller, fully programmable for USB PD provider applications.